Since there seems to be a large amount of conflicting information as to what the "Lucy" evidence currently indicates, I went over the evidence again and compiled more notes. Would welcome any thoughts others have in regards to this upside down symmetry.
Hare are realistic illustrations I found to help show what now holds true. The first shows (other than their being short) that they have the human hip and pelvis. They are here qualified as "human" too but not "Homo sapiens" instead called "Australopithecus afarensis":
The 48 chromosome designs ("great apes") have that tall and narrow pelvis with legs that swing outwards, which is bad for walking on them but works for something happy living in trees that only needs to climb from branch to branch.
Below, notice how they have hands for feet and their hands are long inflexible extensions of their arms (like our feet) that makes their hand/knuckles good enough for walking with on all fours.
http://www.anthro4n6.net/lucy/
It's as though 48's are kinda upside down from our morphology as though at some point things were swapped around. A chromosome fusion would easily be enough to cause that, which would right there make life in a tree no fun anymore. With sleeping way up in the air not the safest thing either it may have been safer on the ground anyway, especially where one below figured out how to keep flames they got from a wildfire going 24/7 and all the rest join them to help keep it tended. At night tell campfire stories while trying to figure out what the moon and stars are made of while sharing notes on what they know about where they came from.
The answer is not as simple as no trees to climb creating humans. It can very well be that from day one our unique 46 chromosome design never wanted anything to do with living in trees, just a last resort from danger but not "home" as one with perfectly formed hands for feet would prefer. Possibly like the early Massachusetts Pilgrims they liked the more plentiful shoreline even though it's not a great place to become fossilized. Big human hands and/or feet make great paddles for swimming, but there being water to swim in would not automatically be the cause of their having them there is a molecular mechanism required that is harder to explain but that's what the theory expects.
If like the unfortunate (much more recent) "Hobbits" a volcano one day suddenly blasts their island into the sky then the theory expects explaining that, not carry on about natural selection made them small and natural selection gave them big feet and natural selection ruled them out (instead of just plain unlucky). There is a thread on my quick study of their very Asian looking skull design, which also makes sense considering that's where the Hobbits lived.
http://www.biology-online.org/biology-forum/post-109904.html#p109904
I love putting good science art like that on the screen, where it shows that even with a narrower jaw they were both possibly very recognizably human: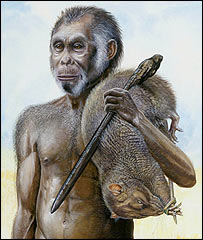 http://www.d.umn.edu/cla/faculty/troufs/anth1602/pchobbit.html
In this 46/48 comparison the upper and lower proportions are also reversed:
Human-Gorilla-Chimpanzee-Orangutam-Gibbon
http://www.whyevolution.com/chimps.html
They still have some flexibility in their fingers at the end their hands useful for grasping objects, but not with ease like we can. Their strong gripping hands are way at their other end on the short little legs that are more in proportional length to our arms, which strongly holds their feet to branches to make climbing easy but it's hard to stand and grab something at the same time when your opposable thumb is a giant toe you need to stand with. And it's hard to make shoes that make feet like ours good for walking on thorns and other things that would no doubt have all the 48's in their own language yelling "Oooooooh!, OOooh!, OoooohH!, ooh!!!"
_________________
Premise:
The theory of intelligent design holds that certain features of the universe and of living things are best explained by an intelligent cause, not an undirected process such as natural selection.
Google Viewer
MS Word Format