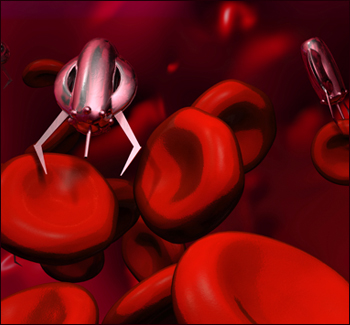 No, really, how small is it? Is it dangerous?
Join us next Tuesday, February 23, as Dr. Cathy Clewitt of the FHSU Physics Department instructs and engages us in conversation about nanotechnology.
Nanotechnology is the result and process of manipulating matter at the atomic and molecular scale. Like any other new technology, nanotech inspires its own peculiar risks and concerns. According to Wikipedia,
Some of the recently developed nanoparticle products may have unintended consequences. Researchers have discovered that silver nanoparticles used in socks only to reduce foot odor are being released in the wash with possible negative consequences.[52] Silver nanoparticles, which are bacteriostatic, may then destroy beneficial bacteria which are important for breaking down organic matter in waste treatment plants or farms.[53]

A study at the University of Rochester found that when rats breathed in nanoparticles, the particles settled in the brain and lungs, which led to significant increases in biomarkers for inflammation and stress response.[54]
Come on down to Cafe Semolino, 110 W. 11th Street, next Tuesday evening for an invigorating discussion with other science-curious folks, and great science from scientists themselves.